Mobile PID-Check for solar modules: Fraunhofer CSP receives award in Singapore
Dr Volker Naumann of the Fraunhofer Center for Silicon Photovoltaics (CSP) was singled out for the Best Poster Presentation in the subject area of photovoltaic modules at the PVSEC conference in Singapore. Dr Naumann presented the PIDcheck, a mobile device that can determine the susceptibility of solar modules already installed in the field to potential-induced degradation (PID). The defect is one of the most frequent causes of performance losses in photovoltaic modules with crystalline silicon solar cells.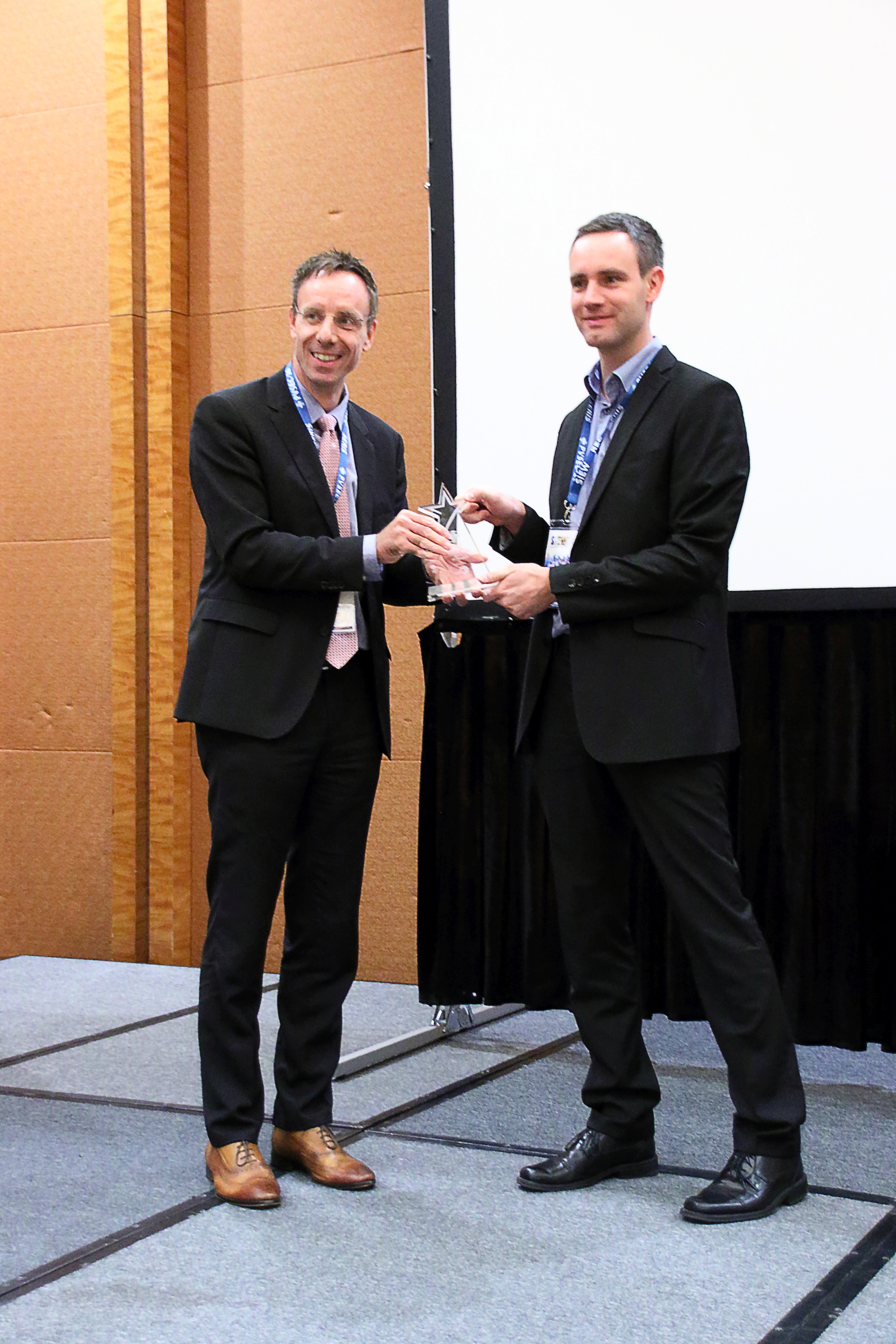 Naumann, who developed the PIDcheck device together with his colleagues, received award during the closing ceremony of the 26th International Photovoltaic Science and Engineering Conference (PVSEC-26), the largest photovoltaics conference in the Asian Region. The device is sold by Freiberg Instruments, a specialist in industrial semiconductor metrology, as a licensee and is an important tool for testing the reliability of solar modules in use.
The physical causes of potential-induced degradation had previously been clarified through investigations on the nano-level at the Fraunhofer CSP in Halle (Saale). PID occurs above all, when solar modules are operated at high system voltages and in a damp environment. Based on this fundamental understanding of the PID effect, the Fraunhofer researchers had already developed a device, the PIDcon, which can determine the susceptibility of solar cells to PID at cell level, without having to specifically produce test modules and test them in climatic chambers, as had previously been necessary. The PIDcon device is now used by numerous companies in the photovoltaics industry.
PIDcheck enables a very similar test to now also be performed on solar modules that are already installed on roofs or in solar parks. »I am very pleased to receive this award from my international peers. Because the prize recognizes that we resolutely continue to tread the path that has been opened up by the elucidation of the causes of PID. We not only contribute to minimising the effects of PID in production using PIDcon, but now also its effects on modules that are already in operation using PIDcheck. This is an important contribution to enabling the long-term yields of photovoltaic systems to be predicted« said Naumann. He was one of the invited speakers at the conference and received one of five prizes award during the conference.
PIDcheck simulates the conditions under which PID takes place: increased temperatures and a high electrical potential between the glass surface and solar cell. During the measurement, the solar radiation acting on the cells is replaced by electrical current from the test device. In this way, not only the susceptibility of the solar modules to PID can be measured. The device can also open up new opportunities for possible reversing of the effect, i.e. by regenerating already damaged solar cells.